Plan for World's Biggest Free-Trade Area Set Back by Virus
Published Date: 5/8/2020
The Africa-wide free-trade agreement will create the world's biggest commerce zone by area, with a potential market of 1.2 billion people and a combined gross domestic product of $2.5 trillion when fully operational in 2030. But the coronavirus pandemic could delay its start by up to six months.
"The consideration for postponement doesn't mean that there no longer is political will and that there is no longer political commitment," said Wamkele Mene, the secretary general of the African Continental Free Trade Area. "We have to adjust to conditions that unfortunately nobody could have anticipated and we have to give the space to governments to solve the public health crisis as a matter of priority."
Legally, the agreement is already in force, but to make the July 1 deadline for the start of trade in goods and services under the new tariff rules, several details need to be ironed out as part of phase one of the process. When Covid-19 hit, negotiations to conclude rules of origin and tariff reductions were at an advanced stage. But talks were set back by 2 1/2 months due to the disruptions caused by the pandemic, he said.
The African Union was scheduled to have an extraordinary summit in Johannesburg this month to finalize the agreement. The AfCFTA's secretariat is exploring the feasibility of moving talks involving more than 50 countries and real-time translation into four languages online. However, full border closures by some 30 nations aimed at limiting the spread of the virus is likely to restrict trade flows over the coming months, Mene said.
Africa lags other regions in terms of internal trade, with intracontinental commerce accounting for only 15% of the total, compared with 58% in Asia and more than 70% in Europe. The agreement aims to lower or eliminate cross-border tariffs on 90% of goods, facilitate the movement of capital and people, promote investment and pave the way for the establishment of a continent-wide customs union.
— Prinesha Naidoo in Johannesburg and Leanne de Bassompierre in Abidjan
Charting the Trade Turmoil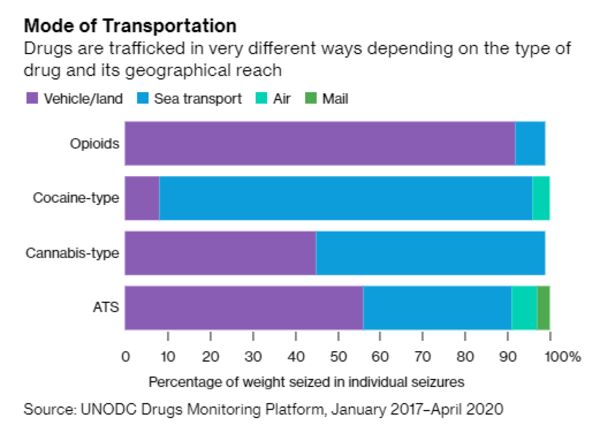 The novel coronavirus pandemic is disrupting the illicit drug trade through increased border controls, reduced air traffic and supply shortages, though the outbreak's economic fallout may lead to more people getting involved in the business, a United Nations-sponsored report warned.
Today's Must Reads
On the Bloomberg Terminal
Lagging behind | Bloomberg Economics' analysis of product-by-product trade data shows that China is very far from meeting its commitments for increased purchase in the trade deal with the U.S.
Consumption shift | Continued social distancing policies in Asia may have decimated hospitality, but demand for staples have shifted to households, according to Bloomberg Intelligence.
Use the AHOY function to track global commodities trade flows.
See BNEF for BloombergNEF's analysis of clean energy, advanced transport, digital industry, innovative materials, and commodities.
Click VRUS on the terminal for news and data on the coronavirus and here for maps and charts.
Like Supply Lines?
Don't keep it to yourself. Colleagues and friends can sign up here. We also publish Balance of Power, a daily briefing on the latest in global politics.
For even more: Follow @economics on Twitter and subscribe to Bloomberg All Access for full global news coverage and two in-depth daily newsletters, The Bloomberg Open and The Bloomberg Close.
How are we doing? We want to hear what you think about this newsletter. Let our trade tsar know.
— With assistance by Zoe Schneeweiss
Source: Bloomberg
BITUMEN, IRAN BITUMEN, BITUMEN REFINERY, BITUMEN MANUFACTURER, BITUMEN PRODUCER, HIGH QUALITY BITUMEN, BITUMEN EXPORTER, BITUMEN FACTORY, IRAN BITUMEN 60/70, PETRO TAR CO., PETRO TAR KIMIA CO., BITUMEN RATE, BITUMEN 60_70, BITUMEN R60/70, BITUMEN ROAD, ROAD BITUMEN, BITUMEN EMULSION, BITUMEN 6070, BITUMEN R60/70, SPECIFICATION OF BITUMEN 60/70, BITUMEN RATE, BITUMEN BY L/C, BITUMEN SUPPLIER, BITUMEN PENETRATION, PENETRATION BITUMEN, WHAT IS BITUMEN?, HISTORY OF BITUMEN, TYPE OF BITUMEN, BITUMEN SPECIFICATION, BITUMEN STANDARDS, BITUMEN IN 150 KG DRUM, MODIFIED BITUMEN, BITUMEN 80/100, BITUMEN 60/70, BITUMEN R80/100, BITUMEN 80100, BITUMEN R80/100, SPECIFICATION OF BITUMEN 80/100, IRAN BITUMEN 80/100, SPECIFICATION OF BITUMEN 80/100, BITUMEN 85/100, BITUMEN R85/100, BITUMEN 85100, BITUMEN R85/100, SPECIFICATION OF BITUMEN 85/100, IRAN BITUMEN 85/100, SPECIFICATION OF BITUMEN 85/100, ALL GRADE OF BITUMEN, BITUMEN 20/30, BITUMEN R20/30, BITUMEN 20/30, BITUMEN R20/30, SPECIFICATION OF BITUMEN 20/30, IRAN BITUMEN 20/30, SPECIFICATION OF BITUMEN 20/30, BITUMEN 50/70, BITUMEN R50/70, BITUMEN 50/70, BITUMEN R50/70, SPECIFICATION OF BITUMEN 50/70, IRAN BITUMEN 50/70, SPECIFICATION OF BITUMEN 50/70, BITUMEN 60/90, BITUMEN R60/90, BITUMEN 60/90, BITUMEN R60/90, SPECIFICATION OF BITUMEN 60/90, IRAN BITUMEN 60/90, SPECIFICATION OF BITUMEN 60/90, BITUMEN 70/100, BITUMEN R70/100, BITUMEN 70/100, BITUMEN R70/100, SPECIFICATION OF BITUMEN 70/100, IRAN BITUMEN 70/100, SPECIFICATION OF BITUMEN 70/100, BITUMEN 90/130, BITUMEN R90/130, BITUMEN 90/130, BITUMEN R90/130, SPECIFICATION OF BITUMEN 90/130, IRAN BITUMEN 90/130, SPECIFICATION OF BITUMEN 90/130, MANUFACTURE OF BITUMEN, MADE IN IRAN BITUMEN, BALCK GOLD, TAR, OXIDIZED BITUMEN, BLOWN BITUMEN, BLOWN ASPHALT, OXIDIZED ASPHALT, BITUMEN MANUFACTURER, BITUMEN REFINERY, IRAN BITUMEN, ROAD BITUMEN, ALL GRADE OF BITUMEN, MANUFACTURE OF BITUMEN, REFINERY OF BITUMEN, MADE IN IRAN BITUMEN, EXPORTER OF BITUMEN, SUPPLIER OF BITUMEN, PRODUCER OF BITUMEN, BITUMEN 20/30, BITUMEN 35/50, BITUMEN 40/50, BITUMEN 40/60, BITUMEN 50/70, BITUMEN 60/70, BITUMEN 70/100, BITUMEN 80/100, BITUMEN 85/100, BITUMEN 100/150, BITUMEN 160/220,OXIDE BITUMEN, OXIDISED BITUMEN, OXIDIZED BITUMEN REFINERY, OXIDIZED BITUMEN SUPPLIER, OXIDIZED BITUMEN MANUFACTUER,OXIDIZED BITUMEN EXPORTER, IRAN OXIDIZED BITUMEN,OXIDIZED BITUMEN ORIGIN OF IRAN, OXIDIZED BITUMEN SELLER, OXIDIZED BITUMEN WHOLESELLER, ALL GRADE OF OXIDIZED BITUMEN,HARD BITUMEN, COATING BITUMEN, WATERPROOFING BITUMEN,IRAN BLOWN BITUMEN, BLOWN BITUMEN REFINERY, BLOWN BITUMEN MANAUFACTURER, BLOWN BITUMEN EXPORTER, BLOWN BITUMEN SELLER, BLOWN BITUMEN SUPPLIER, BLOWN BITUMEN WHOLESELLER, IRAN BLOWN BITUMEN MANUFACTUER, IRAN BLOWN BITUMEN, BLOWN GRADE BITUMEN, HARD GRADE BITUMEN, IRAN HARD BITUMEN, BLOWN BITUMEN PRODUCER, PURE BLOWN BITUMEN, PURE OXIDIZED BITUMEN, OXIDIZED BITUMEN WITHOUT GILSONITE, NONE GILSONITE OXIDIZED BITUMEN, OXIDISED BITUMEN, OXIDE BITUMEN, OXYDE BITUMEN, OXIDIZED TAR, BLOWN TAR, WATERPROOFING BITUMEN, HOT MIX ASPHALT, MODIFIED BITUMEN, BETUME OXYDE, BETUME OXIDE, BITUME OSSIDATO, OXIDERAD ASFALT, BITUMEN OXIDE, OXIDATION BITUMEN, OXIDIZED ASPALTO, OKSIDE BITUM, ASFALTO OXIDADO, HARD BITUMEN, RUBBERIZED BITUMEN, BITUMINOUS COATING, PENETRATION GRADE BITUMEN, WATERPROOF MEMBRANCE, BLOWN ASPHALT REFINERY, BLOWN ASPHALT PRODUCER, BLOWN ASPHALT MANUFACTUERER, IRAN BLOWN ASPHALT, BLOWN ASPHALT WHOLESELLER, BLOWN ASPHALT SELLER, BLOWN ASPHALT EXPORTER, BLOWN ASHALT SUPPLIER, PURE BLOWN ASPHALT, NONE GILSONITE BLOWN ASPHALT, BLOWN ASPHALT WITHOUT GILSONITE, BLOWN ASPHALT ORIGIN OF IRAN, OXIDIZED ASPHALT REFINERY, OXIDIZED ASPHALT MANUFACTUER, OXIDZED ASPHALT PRODUCER, OXIDZED ASPHALT EXPORTER, OXIDZED ASPHALT WHOLESELLER, OXIDZED ASPHALT SUPPLIER, OXIDZED ASPHALT SELLER, IRAN OXIDZED ASPHALT, MADE IN IRAN OXIDZED ASPHALT, OXIDZED ASPHALT WITHOUT GILSONITE, NONE GILSONITE OXIDZED ASPHALT, PURE OXIDZED ASPHALT, PURE BLOWN BITUMEN, NONE GILSONITE OXIDIZED BITUMEN, IRAN OXIDIZED BITUMEN 10/20, OXIDIZED BITUMEN 10/20, BLOWN BITUMEN 10/20, BLOWN ASPHALT 10/20, OXIDIZED ASPHALT 10/20, OXIDISED BITUMEN 10/20, PURE OXIDIZED BITUMEN 10/20, PURE BLOWN BITUMEN 10/20, PURE OXIDIZED ASPHALT 10/20, PURE PURE ASPHALT 10/20, OXIDE BITUMEN 10/20, HARD BITUMEN 10/20, OXIDIZED BITUMEN 10/20 IN CARTON BOX, OXIDIZED BITUMEN 10/20 IN BAG, OXIDIZED BITUMEN 10/20 IN DRUM, HIGH QUALITY OXIDIZED BITUMEN 10/20, COATING BITUMEN, IRAN OXIDIZED BITUMEN 85/25, OXIDIZED BITUMEN 85/25, BLOWN BITUMEN 85/25, BLOWN ASPHALT 85/25, OXIDIZED ASPHALT 85/25, OXIDISED BITUMEN 85/25, PURE OXIDIZED BITUMEN 85/25, PURE BLOWN BITUMEN 85/25, PURE OXIDIZED ASPHALT 85/25, PURE PURE ASPHALT 85/25, OXIDE BITUMEN 85/25, HARD BITUMEN 85/25, OXIDIZED BITUMEN 85/25 IN CARTON BOX, OXIDIZED BITUMEN 85/25 IN BAG, OXIDIZED BITUMEN 85/25 IN DRUM, HIGH QUALITY OXIDIZED BITUMEN 85/25, COATING BITUMEN, IRAN OXIDIZED BITUMEN 85/40, OXIDIZED BITUMEN 85/40, BLOWN BITUMEN 85/40, BLOWN ASPHALT 85/40, OXIDIZED ASPHALT 85/40, OXIDISED BITUMEN 85/40, PURE OXIDIZED BITUMEN 85/40, PURE BLOWN BITUMEN 85/40, PURE OXIDIZED ASPHALT 85/40, PURE PURE ASPHALT 85/40, OXIDE BITUMEN 85/40, HARD BITUMEN 85/40, OXIDIZED BITUMEN 85/40 IN CARTON BOX, OXIDIZED BITUMEN 85/40 IN BAG, OXIDIZED BITUMEN 85/40 IN DRUM, HIGH QUALITY OXIDIZED BITUMEN 85/40, IRAN OXIDIZED BITUMEN 90/10, OXIDIZED BITUMEN 90/10, BLOWN BITUMEN 90/10, BLOWN ASPHALT 90/10, OXIDIZED ASPHALT 90/10, OXIDISED BITUMEN 90/10, PURE OXIDIZED BITUMEN 90/10, PURE BLOWN BITUMEN 90/10, PURE OXIDIZED ASPHALT 90/10, PURE PURE ASPHALT 90/10, OXIDE BITUMEN 90/10, HARD BITUMEN 90/10, OXIDIZED BITUMEN 90/10 IN CARTON BOX, OXIDIZED BITUMEN 90/10 IN BAG, OXIDIZED BITUMEN 90/10 IN DRUM, HIGH QUALITY OXIDIZED BITUMEN 90/10, IRAN OXIDIZED BITUMEN 90/15, OXIDIZED BITUMEN 90/15, BLOWN BITUMEN 90/15, BLOWN ASPHALT 90/15, OXIDIZED ASPHALT 90/15, OXIDISED BITUMEN 90/15, PURE OXIDIZED BITUMEN 90/15, PURE BLOWN BITUMEN 90/15, PURE OXIDIZED ASPHALT 90/15, PURE PURE ASPHALT 90/15, OXIDE BITUMEN 90/15, HARD BITUMEN 90/15, OXIDIZED BITUMEN 90/15 IN CARTON BOX, OXIDIZED BITUMEN 90/15 IN BAG, OXIDIZED BITUMEN 90/15 IN DRUM, HIGH QUALITY OXIDIZED BITUMEN 90/15, IRAN OXIDIZED BITUMEN 90/40, OXIDIZED BITUMEN 90/40, BLOWN BITUMEN 90/40, BLOWN ASPHALT 90/40, OXIDIZED ASPHALT 90/40, OXIDISED BITUMEN 90/40, PURE OXIDIZED BITUMEN 90/40, PURE BLOWN BITUMEN 90/40, PURE OXIDIZED ASPHALT 90/40, PURE PURE ASPHALT 90/40, OXIDE BITUMEN 90/40, HARD BITUMEN 90/40, OXIDIZED BITUMEN 90/40 IN CARTON BOX, OXIDIZED BITUMEN 90/40 IN BAG, OXIDIZED BITUMEN 90/40 IN DRUM, HIGH QUALITY OXIDIZED BITUMEN 90/40, IRAN OXIDIZED BITUMEN 95/25, OXIDIZED BITUMEN 95/25, BLOWN BITUMEN 95/25, BLOWN ASPHALT 95/25, OXIDIZED ASPHALT 95/25, OXIDISED BITUMEN 95/25, PURE OXIDIZED BITUMEN 95/25, PURE BLOWN BITUMEN 95/25, PURE OXIDIZED ASPHALT 95/25, PURE PURE ASPHALT 95/25, OXIDE BITUMEN 95/25, HARD BITUMEN 95/25, OXIDIZED BITUMEN 95/25 IN CARTON BOX, OXIDIZED BITUMEN 95/25 IN BAG, OXIDIZED BITUMEN 95/25 IN DRUM, HIGH QUALITY OXIDIZED BITUMEN 95/25, IRAN OXIDIZED BITUMEN 110/30, OXIDIZED BITUMEN 110/30, BLOWN BITUMEN 110/30, BLOWN ASPHALT 110/30, OXIDIZED ASPHALT 110/30, OXIDISED BITUMEN 110/30, PURE OXIDIZED BITUMEN 110/30, PURE BLOWN BITUMEN 110/30, PURE OXIDIZED ASPHALT 110/30, PURE PURE ASPHALT 110/30, OXIDE BITUMEN 110/30, HARD BITUMEN 110/30, OXIDIZED BITUMEN 110/30 IN CARTON BOX, OXIDIZED BITUMEN 110/30 IN BAG, OXIDIZED BITUMEN 110/30 IN DRUM, HIGH QUALITY OXIDIZED BITUMEN 110/30, IRAN OXIDIZED BITUMEN 115/15, OXIDIZED BITUMEN 115/15, BLOWN BITUMEN 115/15, BLOWN ASPHALT 115/15, OXIDIZED ASPHALT 115/15, OXIDISED BITUMEN 115/15, PURE OXIDIZED BITUMEN 115/15, PURE BLOWN BITUMEN 115/15, PURE OXIDIZED ASPHALT 115/15, PURE PURE ASPHALT 115/15, OXIDE BITUMEN 115/15, HARD BITUMEN 115/15, OXIDIZED BITUMEN 115/15 IN CARTON BOX, OXIDIZED BITUMEN 115/15 IN BAG, OXIDIZED BITUMEN 115/15 IN DRUM, HIGH QUALITY OXIDIZED BITUMEN 115/15, REFINERY OF BLOWN BITUMEN, SUPPLIER OF BLOWN BITUMEN, OK'SITIV BITUMNER, ՕՔՍԻՏԻՎ ԲԻՏՈՒՄՆԵՐ, PRODUCER OF BLOWN BITUMEN, IRAN MADE BLOWN BITUMEN, ALL GRADES OF OXIDIZED BITUMEN,AIR BLOWN BITUMEN, OXIDIZED BITUMEN IN MELTABLE BAG, OXIDIZED BITUMEN IN KRAFT BAGS, OXYDE BITUMEN 115/15, البيتومين المؤكسد, OXİDİZLİ BİTÜNLƏR, oksidaizd bitumen, OXIDmitted BITUMEN, BITUME OXYDÉ, OXIDIERTES BITUMEN, 산화 된 역청, BITUMEN ที่เป็นพิษ, OKSİTLENEN BİTÜMEN, BITUMEN OSSIDATO, OXIDIZED BITUMEN IN CARTON BOX, OXIDIZED BITUMEN IN DRUM,OXIDIZED BITUMEN IN POLYAMIDE BAGS, OXIDIZED ASPHALT IN MELTABLE BAG, OXIDIZED ASPHALT IN KRAFT BAGS, OXIDIZED ASPHALT IN CARTON BOX, OXIDIZED ASPHALT IN DRUM,OXIDIZED ASPHALT IN POLYAMIDE BAGS, PETRO TAR CO., PETRO TAR, PETRO TAR KIMIA CO., BITUMEN COMPANY, OXIDIZED BITUMEN COMPANY, BLOWN BITUMEN COMPANY, BLOWN ASPHALT COMPANY, ASPHALT, TAR, BITUM, EMULSION BITUMEN, MIXED BITUMEN, JP54, BASE OIL, LPG, LNG, D2, MAZUT, JET A1, CRUDE OIL, BLCO, CRUDE OIL, DIESEL EN590, SULPHUR, CLAY PRO, HIGH QUALITY BITUMEN, OIL